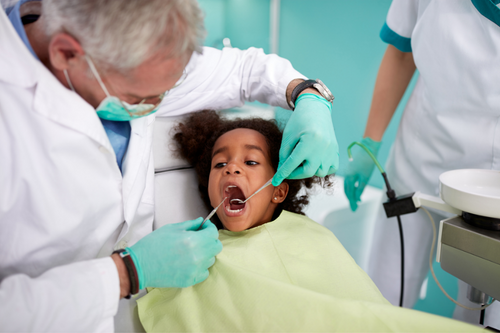 The concept of dental care can be daunting to some parents. It can be hard to know when to take your child to the dentist and how often they should be brought in for their teeth cleaning. In addition, many parents wonder if their child's baby teeth matter that much, as they will fall out. In this article, we go over the best age for your child's first dental appointment. We will also discuss ways to ensure your child grows up with a happy, healthy smile.
What Age Should a Child Be Before Going to the Dentist?
Dentists recommends your child visit the dentist as soon as their first tooth comes in, around six months old. Regardless of when their teeth start, you'll want your child to have their first dental visit before they turn one year old. This allows your dentist to catch any dental issues that may appear, and also acclimates your child to the dentist.
The more often your child visits the dentist, the more relaxed they tend to be about routine dental visits. This allows parents or guardians to get used to going to the dentist with the child. It also enables them to brush up on the best dental practices for their child.
How Often Should I Take My Child to the Dentist?
You should take your child in for their first teeth cleaning before age one. After that, routine dental cleaning and checkups should happen every six months. However, for some people, visiting the dentist should happen more often. This is especially true if there is a family history of tooth decay or other dental problems. Working with your dental team is the best way to find the right time to bring your child to the dentist. Of course, if your child is complaining about dental pain or you notice any concerning changes, contact your dentist immediately.
How to Prevent Cavities in Children
One of the best ways to prevent cavities in children is to practice good dental hygiene at a young age. This includes regular brushing and flossing of your child's teeth, and also involves teaching them about healthy dental habits. So while you may be tempted to take over for your child regarding dental hygiene, teaching them how to brush their teeth is a big step toward healthy teeth.
Another way to prevent cavities in children is to limit their consumption of sugary beverages and juices and make sure not to allow them to fall asleep with their bottle in their mouth, as this can lead to baby bottle tooth decay. In addition, making sure to brush your child's teeth as soon as they start to grow in and making sure they have adequate access to fluoride can all prevent cavities.
If you're looking for a pediatric dentist, check out Smile first Pediatric Dentistry. Our office is in Oakdale, NY, and we are proud to offer exceptional pediatric dental care to the surrounding areas. If you're looking to schedule your child's first dental visit, or want to learn more about pediatric dental care, call our office at (631) 563-7462.