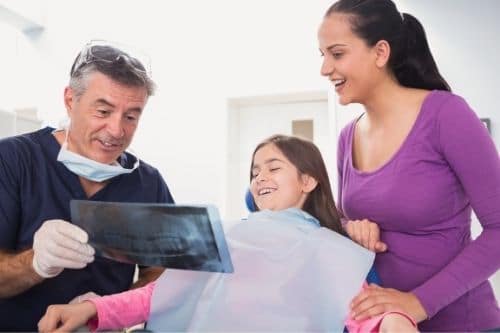 Good pediatric dentists are hard to find. This makes finding the right pediatric dentist for your family even harder. They must have all the skills and knowledge of general dentists while understanding the unique needs of their young patients.
Children have had few dental experiences compared to adults, and even visiting a dentist can provoke anxiety for them. The way a dental team responds to a child can set their expectation for the rest of their life. As a parent, you naturally want to bring them to a pediatric dentist who understands their needs. We discuss some tips offered by the American Academy of Pediatric Dentistry in this blog.
Start by Talking to Other Parents
Parents know their children best, and they often love sharing tips with other parents when asked for advice. If your dental insurance offers more than one option for a pediatric dentist, ask fellow parents their recommendations. While you still want to search for reviews, first-hand insight is invaluable and something you cannot get anywhere else. Here are some specific questions you can ask your fellow parents:
Was the set-up of the dental office geared towards children?
Did the dentist, dental assistants, and front office staff answer questions in a clear and polite manner?
Is the dental practice in a safe location? Is it easy to get to?
How long did you and your child need to wait to get in to see the dentist?
Did the dental staff speak directly to your child and explain things in an age-appropriate manner?
If your child displayed anxiety, were you satisfied with how the dental staff handled it?
Asking a few of these questions should give you an idea if you want to schedule an appointment for your child.
What Type of Training Does the Dentist and Dental Staff Have?
Pediatric dentists complete an additional two to three years of training beyond dental school. This additional training instructs dentists on how to work with baby teeth, smaller mouths, and issues unique to this population like thumb-sucking and pacifier use.
Pediatric dentistry training also teaches future dentists about children's developmental stages and how to respond to specific types of behavior. People in this dental specialty also learn about the various special needs some children have. Diagnoses such as autism and sensory processing disorder can make an appointment especially challenging. Knowing how to properly work with patients with these types of diagnoses is vital.
Does the Pediatric Dentist Take a Preventative Approach?
An experienced pediatric dentist knows that children are especially at risk for tooth decay and fillings. They will also do everything possible to help patients prevent these problems. Here are some ways to know if the pediatric dentist you are considering is serious about preventive care:
Offers advice regarding diet, brushing, flossing, and other oral healthcare tips.
Gives the option to request fluoride treatment or dental sealant for your child to help protect teeth from decay.
Encourages to schedule a professional cleaning and exam every six months.
Remains available to you for questions between appointments.
Smile First Pediatric Dentistry would love to be the new dental provider for your children. Feel free to call us with questions or schedule an appointment today.