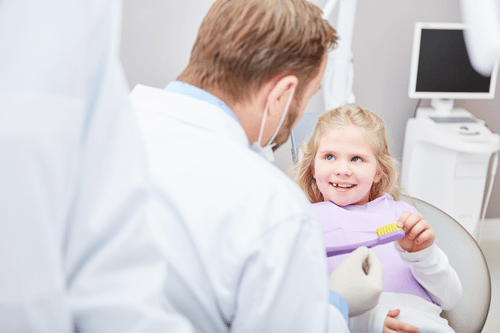 As a parent, finding a dentist for your child can be exhausting. Trying to figure out if a dental office is a good fit for your family may sometimes seem overwhelming. Thankfully, we're here to help.
Let's look at the differences between pediatric and family dentists and what you can expect from each practice. While there is some overlap between training and atmosphere, in some cases, pediatric dentists are a better choice for your family, depending on your child's needs.
Their Training
While family dentists and pediatric dentists welcome younger patients, only pediatric dentists specialize in pediatric dental care. Family dentists serve a wide range of dental patients, while pediatric dentists specialize in treating and caring for young children.
Sometimes, a family dentist can provide exemplary dental care for your child. However, if your child is anxious or has other special needs, a pediatric dentist may be a better fit for you, as they are specially trained in children's dentistry.
Pediatric dentists undergo a full six years of dental training, four years as standard dental training, and another two years specifically training in pediatric dentistry. This specialization shows in their practice, allowing them the experience needed to care for your child's dental needs.
Child-Friendly Care
While family dental care targets being accessible for the whole family, pediatric dentistry specially tailors to younger patients. This means that every aspect of their dental practice is geared toward children.
From longer dental appointments and specialized scheduling to patient practitioners who take the time to make you and your child comfortable, a pediatric dental office offers child-friendly care in every aspect of their practice.
If your child suffers from dental anxiety or has special needs, including ASD, Down Syndrome, cleft palate, or other considerations, a pediatric dentist may be a good fit. Some general dentists won't see younger patients. However, pediatric dentists work with parents to introduce children to dentistry at an early age and foster lifelong dental habits.
Child-Friendly Atmosphere and Equipment
Pediatric dentistry prioritizes patient comfort above all else, meaning their office is specially designed to comfort and support younger patients. From early appointment times to longer time slots for fussy patients, pediatric dentistry considers your child's needs when planning every aspect of their practice.
Not only is a pediatric dental office made to be fun and inviting to young children, but it also specializes in pediatric dental equipment. By ensuring everything in their practice supports young patients, pediatric dentists can provide comprehensive, comfortable care to young patients of all ability levels and dental needs. So if your child is anxious about their first dental visit, or you're looking for a specialist that prioritizes your child's needs, pediatric dentistry is a good fit for you.
If you're looking for a pediatric dentist, check out Smile First Pediatric Dentistry. Our office works diligently to create a positive, child-friendly environment for parents and children. We work to take the stress out of visiting the dentist and hope to instill healthy dental habits from a young age that will last a lifetime. To schedule an appointment, call us at (631) 563-7462.