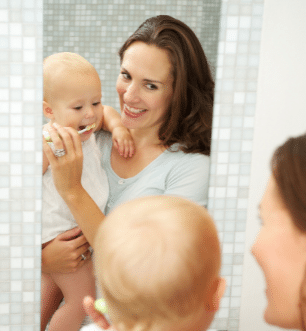 Brushing baby teeth might seem like something not worth dealing with. To some people, they are only temporary teeth that will soon be replaced with permanent adult teeth. However, brushing baby teeth from an early age can help nurture lifelong hygiene practices. It also helps prevent oral problems that can lead to severe problems like tooth decay. Below are five tips on how you can effectively clean baby teeth.

1. When to Start Flossing Baby Teeth
You should begin flossing baby teeth once your kid is between two to six years old. To begin, check to see whether their teeth are close together. Flossing baby teeth helps remove food particles from between their teeth. Failure to remove these particles can lead to gum disease and tooth decay. Therefore, establishing a good flossing habit ensures that your kid's teeth and gums remain healthy.

2. Use an Appropriate Size Toothbrush
Before buying a toothbrush, you should consider something that fits easily into your kid's mouth. If your child can hold the toothbrush, consider something that they can easily hold and manipulate. You should also consider buying a toothbrush with soft bristles and polished or rounded ends since they are gentle on the tooth enamel and gums. Besides the size, you should choose a toothbrush that suits your kid's tastes in terms of pattern, color, etc. This helps make brushing more fun, thus encouraging your child to do it frequently.

3. What Toothpaste is Recommended?
It's advisable to use toothpaste with fluoride since it can help prevent tooth decay and cavities. However, if you aren't comfortable with fluoride, you can look for fluoride-free children's toothpaste. If you're unsure about fluoride, you should speak to your pediatrician. Furthermore, since it's hard for some kids to spit out toothpaste, find something that's safe to swallow. The ingredients to avoid in your baby's toothpaste include harsh or abrasive ingredients, essential oils, and sodium lauryl sulfate.

4. Simple Techniques to Brush Baby Teeth
When brushing teeth for a baby or toddler, you should hold their brush with them and smear the size of a grain of rice with your preferred children's toothpaste onto the brush. At the age of three, you can increase to a pea-sized amount. If your kid swallows a little, don't worry. You can teach older children how to brush by themselves but inspect them to ensure they spit out the toothpaste.

5. Bring Your Baby to Your Pediatric Dentist
Besides frequently cleaning your kid's teeth, you also need to take them to a pediatric dentist. The dentist ensures that your child can easily develop healthy dental habits. Here, your child can learn how to floss, brush and understand how to prevent cavities. Forming their good habits early can last a lifetime.

Cleaning baby teeth can help nurture lifelong dental hygiene practices while preventing tooth decay. Before you begin cleaning and flossing your baby's teeth, you should find the ideal toothbrush and toothpaste for your kid. Speak with a pediatrician to know whether fluoride is something you should avoid when choosing toothpaste.
Our dentists at Smile First Pediatric Dentistry will happily speak with you more about baby teeth hygiene and answer all of your questions. You can request an appointment or call us at (631) 563-7462.